Terschelling Marina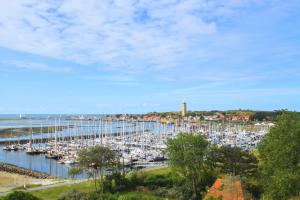 The harbor office is the heart of this marina. If you want to know something about this harbor you can ask your question here. There's also sanitary amenities, which are spacious and clean. There's even a number of computers ready for you if you want to go online. Here you will also find the laundry room, which is entirely free to use. In the cozy, indoor space are a few tables and there's also a lot of information about the island available.
Furthermore Terschelling Marina is near the following sights: Center for Nature and Landscape (±600 m), Lighthouse Brandaris Terschelling (±750 m), Kaapsduin (±900 m), Museum 't Behouden Huys (±950 m) & Riepel boat tours (±1,1 km).
For information:
Werkhaven 1, Terschelling West
tel. +31 562 443 337
web.
Website