Sailing on the Wadden Sea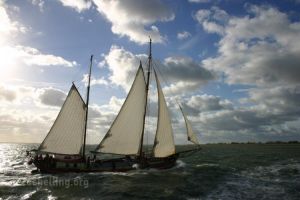 Holland Sail offers multi-day sailing trips on the IJsselmeer and the Wadden Sea. This is especially for groups of 12-48 people on board ships of the oldest historical sailing fleet in the world. The fleet consists of no less than 29 ships. Holland Sail's ships have an open and relaxed atmosphere. Holland Sail's strength lies in the ...
Wadlopen
What is a nicer way to enjoy the nature in the Wadden-region than by mudhiking? Strolling through the mud on a way to an island... It's dangerous to go on a mudhiking tour without a guide. There are 6 organizations that have mudhiking tours. They offer all kinds of tours on/over the Wadden Sea. These tours vary in length, time and heaviness. We wish you lots of fun on ...
Surfvillage Terschelling
Boomstraat 25, West-Terschelling
tel. +31 625 110 280
web.
Website
Kitesurfschool Antix
Groene Strand, West-Terschelling
web.
Website
Fietsverhuur Zeelen haven West-Terschelling
Willembarentzkade 15, West-Terschelling
tel. +31 562 448 165
web.
Website
Tijs Knop
Torenstraat 10-12, West Terschelling
tel. +31 562 442 052
web.
Website
Puur Terschelling
Oosterend 39, Oosterend, Terschelling
tel. +31 562 449 487
web.
Website
Huifkarbedrijf Terpstra
Dorpsstraat 20, Terschelling Hoorn