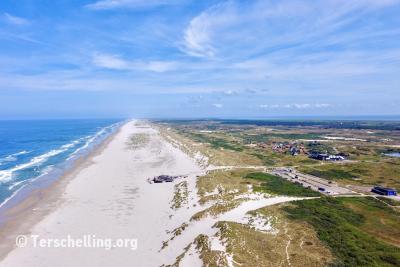 For years, Terschelling has attracted a variety of visitors. No wonder, because the largest Frisian Wadden island offers something for everyone: a wide beach, with swimming sites along the North Sea coast, cycling trails, scenic routes, outdoor activities and a wide range of entertainment possibilities. The sandy beach of Terschelling is one of the finest in the Netherlands. It is nicely wide and flat and therefore ideal for rest and quiet.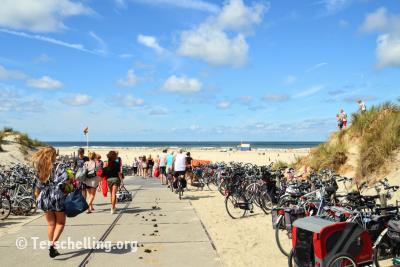 Each beach on the island has its own unique charm:

The beaches, with showers to rinse of the salt seawater, will be cleaned everyday. Besides the rescue brigade will guard the beaches and warns when there is a dangerous current or wind; a pleasant and safe feeling.
Facilities
A sunbath or a walk along the beach, playing fun or water sports. The very well maintained, white beaches of will offer you peace and quietness. Optimum facilities will tribute to the comfort and with that the holiday pleasure of the guests. It starts with accessible beach crossings and parking places. Then there are the lifeguards and the rescue brigade whom watch over the well being of the guests, with a First aid post nearby. Furthermore the many cafes, terraces and restaurants near the beach will take care of the needs for serving drinks and snacks or lunch and diner.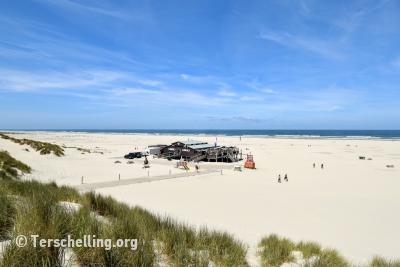 Flags
On the beaches you will find flags and signs with instructions for swimming. It is wise to take account of these signals. They are there for you!
Guarded beach zone
Child found
Dangerous sea
Watersports allowed
Swimming prohibited
Floating Bodies prohibited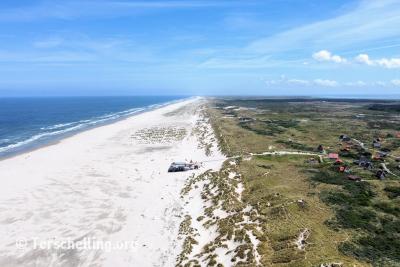 Dogs at the beach
The beach is the ideal destination for many dogs to enjoy. A Frisbee, a stick or a ball can fetch give great pleasure. And what is more fun than making a beach walk with your dog? However, on various beaches are dogs, loose or on a leash, not allowed all year.
Dogs are allowed (both loose and leased) on the beaches of Terschelling all year round.
Further, we also recommend reading the information board, with the local beach rules, which is often placed near every beach (entrance).
Beach tips
At low tide there is a strong current towards the sea, than stay close to shore. In case you get pulled in by the current do not try to swim straight against it, but swim slanting to the shore with the current. Also be aware of floating devices like air-beds, boats or other swimming devices.
Do not get to close to the poles, piers or other obstacles.
Watch your children carefully, do not let them alone near the water. Are there recognition signs on the beach, tell it to your children.
Help to keep the beaches clean.