Lighthouse Brandaris Terschelling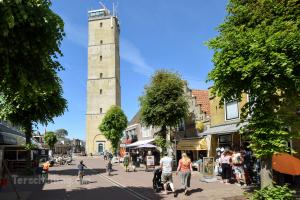 The Brandaris is a lighthouse on Terschelling, and is also the oldest lighthouse in the Netherlands.
The name is a derivation of St. Brandarius, a saint to which the present village of West-Terschelling was named in the middle ages. Some people think that the name is derived from St. Brandaan, a seafaring saint, but that was never proven.
The first Brandaris Tower was built in 1323, in order for ships to mark the narrow gap between Vlieland and Terschelling on their way to Amsterdam, via the Zuiderzee. A good mark was necessary because the islands are very similar to each other when seen from the North Sea. The city of Kampen, helped finance the first lighthouse.
Unfortunately, the sea ate from Terschelling and the first Brandaris collapsed around 1570 into the sea. It took until 1592 before work began on the construction of a second tower, but it collapsed before it was ready, because poor building materials were used. The present tower dates from 1594. In 1837 the Brandaris became the first Dutch lighthouse with a rotating Fresnel lens. Electrification followed in 1907. The lamp with electric drive was installed in 1920. In 1977 the lighthouse was given a lift. In 1994 the 400th anniversary of the tower was celibrated. The light is completely automatic now.
Until the 80s, it was possible to climb the Brandaris. Unfortunately this is no longer possible today. The reason for that is the Brandaris should keep an eye on much of the northern Dutch coast. For this purpose there is a huge amount of equipment in the 'house' on top of the Brandaris. The lighthouse keeper is always busy with his important task and therefore cannot be distracted by tourists. It is possible to get married in the Brandaris. A few years ago a small wedding hall was opened on the first floor. Information about this can be gathered at the local government of Terschelling.
Characteristic
Name: Brandaris
Built: 1593
Tower height: 53,7 m
Light height (above sea level): 55,5 m
Floors: 6
Stair treads: 225
Manned: Yes
Open to the public: No
Furthermore Lighthouse Brandaris Terschelling is near the following sights: Center for Nature and Landscape (±150 m), Kaapsduin (±225 m), Museum 't Behouden Huys (±300 m), Riepel boat tours (±400 m) & Terschelling Marina (±750 m).
For information:
Brandaris
Brandarisstraat 2, West-Terschelling