Beach pole - Sight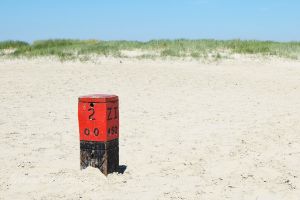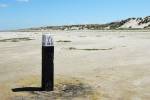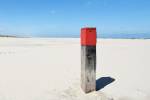 The most characteristic and photogenic landmark on beaches: the Beach Poles. They are often scarred by years of sun, sea, wind, sand and rain. The beach symbol, popular for tourists, is therefore also often featured as depicted on Terschelling souvenirs such as: clothes, artworks, miniatures and postcards.
Beach measurements
The first beach poles in the Netherlands were placed in 1868 by Rijkswaterstaat (Directorate General for Public Works and Water Management). They were used to take annual beach measurements: height of the pole above the sand, distance from pole to dune foot, from pole to high-tide line, from pole to [url/en/tides-ebb-flood.php]low-tide line[/url]. The main purpose of the beach poles was early detection of changes in the beach and dunes along the coastline. If necessary, sand replenishment, for example, could then be carried out.
The authentic oak poles were 25 cm square, four metres high and an iron band around the red head. Besides the red-headed and colourless beach poles, there are also poles with white, yellow and blue heads. On the side are numbers (usually engraved), indicating distance in (kilo)metres between the posts. The numbers indicate the distance in (kilo)metres between the poles. Originally, the poles were placed every kilometre and protruded 1 metre above the sand.
Meanwhile, the poles have not been used for their original purpose for 30 years. Beach measurements are now done with satellites. Now those poles help cyclists and hikers orientate themselves along the coast, but they are also indispensable in investigations, reports or calamities and, of course, as popular photo objects.
For information:
Strand